PUBLICATIONS
Books in Print
Reinventing the Museum: The Evolving Conversation on the Paradigm Shift
Edited by Gail Anderson
AltaMira Press
This second edition is an anthology of 44 seminal articles representing the changing perspectives about the role of museums in contemporary times. The book includes iconic pieces from the 20th century and 33 new articles presenting the latest thinking of the past decade since the first edition. This edition represents 75% new material. Please download Reinventing the Museum Tool also updated.
"In this new edition of Reinventing the Museum Gail Anderson once again provides a comprehensive and thoughtful array of essays by leaders in the museum field and beyond. Issues that address the challenge of the 21st century museum are explored in many of these essays which will serve both students and practitioners. I welcome this new and valuable addition to the literature." – Martha Morris, George Washington University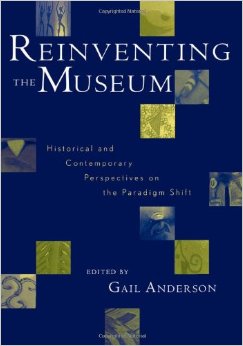 Reinventing the Museum: Historical and Contemporary Perspectives on the Paradigm Shift
Edited by Gail Anderson
AltaMira Press
This first edition anthology brings together 35 seminal articles that reflect the unfolding thinking on what it means to be a museum in today's world. The book highlights pivotal articles from the 20th century through to the present in the introductory section.   Contemporary perspectives on the role of the public, public service, stewardship, and leadership constitute the remaining sections. This reader is designed to provide trustees, museum professionals and students with access to some of the best thinking in the museum profession.
Museum Mission Statements: Building a Distinct Identity, 2nd Edition
Edited by Gail Anderson
American Association of Museums
A well-crafted mission statement is one of the central management tools for museums navigating the present into the future. Twenty top museum professionals share their memorable experiences shaping their institution's mission statement, and bring to life the principles and techniques for attaining a mission statement that inspires and energizes. This book provides step-by-step guidance in writing or evaluating a museum mission statement and how to use it effectively. Generously supplemented with 79 mission statements from a wide variety of museums, the report is useful to any size or type museum.
Books & Publications
Gail Anderson has authored and edited over 20 publications.
A sampling of articles and reviews: